Patient Story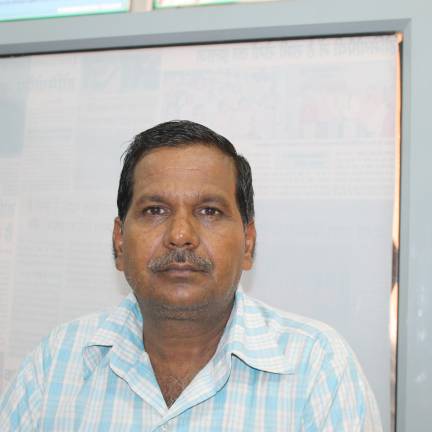 Disease : Chronic-Blepharospasm
Last Updated on : 02 Aug 2019
Case Started on : 09 Jan 2014
Here is the story of Vinay Prasad. When he first came for a consultation with Dr. Ravi on 9th January 2014, he was posted as the Forest guard in Jharkhand state. He was suffering from Blepharospasm: uncontrollable blinking of eyes. On asking how this started? He said that one day he was suffering from fever and when he consulted a nearby doctor, the doctor there told that the symptoms are of typhoid. As the solution, the doctor suggested taking 10 injections for better recovery. When he had taken injections there was uncontrollable blinking in his eyes and there was stretching all around the eye. He changed doctors frequently consulted many famous doctors from almost every part of India, varying from Jharkhand, Raipur, Allahabad, Visakhapatnam, Hyderabad and Lucknow. He had also taken Botox injection 3 times, but there was no improvement in his condition. He also reported that the continuous blinking and twitching increases with the effect of wind or when he is using the phone. Describing his problems in the consultation session he couldn't control the blinking of his eyes. In the video: his helplessness and suffering he was going through when he first came can be seen. Considering all his problems Dr. Ravi started treatment process.
After 1 Month and 25 Days
When he came for follow up on 5th March 2014, there was 60% improvement in his condition. He stated that: While working, writing, reading or doing any work, there is no problem, but when he is alone, thinking or on a moving bike due to the effect of wind, eyes start blinking faster. Now he is hopeful with Dr. Ravi's treatment process because there is a sign of improvement which he never observed with the previous doctor's treatments. Even his problems were increasing with the previous doctor's treatments. He further added that this time he came here on his own, he traveled all alone from Chhattisgarh to Lucknow which was previously not possible due to his problem.
After 1 Year , 2 Months and 15 Days
When he came for a follow up after a year, his right eye was totally fine, but there was a little problem with his left eye. There was not rapid and constant blinking but in his left eyelid, there was twitching at the corner of the eye. With the treatment process of Dr. Ravi, he was 90% cured.
After 2 Years , 5 Months and 9 Days
Continuing Dr. Ravi's treatment, he came for a follow up on 16th June 2016, he looks happy and his smiling face described that he is totally recovered with the treatment process. There was 100 % improvement in his spasm. Troubled with this problem for many years and after consulting many Doctors from all over India, No one understood his problem and couldn't even recognise the disease. He became hopeless and believed that he has to live with this problem for the rest of his life. But with Dr. Ravi's treatment process, he became hopeful and for him it was like a miracle.
After 4 Years and 14 Days
To see his recovery Dr. Ravi has asked him to record a video and send. Visual recovery can be observed from the video which he had sent on 22nd Jan 2018. Now, he can control his eyes from rapid and constant blinking. He is totally cured and there is 100% improvement in his spasm without any recurrence.

After 5 Years , 6 Months and 26 Days
Vinay Prasad Pandey has called Dr. Ravi on 2nd Aug 2019 to refer. a patient. He for himself has reported that he is doing absolutely fine. His eyes are perfect. He is narrating that he is a Govt Servant and before treatment, he was suffering from Blepharosm that was a hindrance in his office and household duties. I have visited 9 Neurologist from Raipur, Jagdalpur, Allahabad, Gorakhpur, Hyderabad, Vishakhapatnam, Lucknow PGI all in vain. Then with the help of my nephew I met Dr.Ravi, he assured me for cure but said it will take time. Since Dec 2016 I have stopped treatment, since then till date I am doing fine. I wish to give thanks to Dr.Ravi as he has given support to my family by his treatment.
I was suffering from severe twitching of eyes and spasm since 28/03/2012, I have gone to many eye specialists and centers all over India without any relief, one eye surgeon from Hyderabad has said to me to visit neurologist and neurologist start giving me Botox injections, but that was also with little relief. One of my relatives told me about Dr. Ravi of Lucknow and I can to his clinic from Bastar, Chattisgarh. I was started getting relief from his treatment in the first month only and he is now been cured fully. My son Rajat Pandey has also been cured by sir for his allergies and sinusitis. I am recommending for his service.